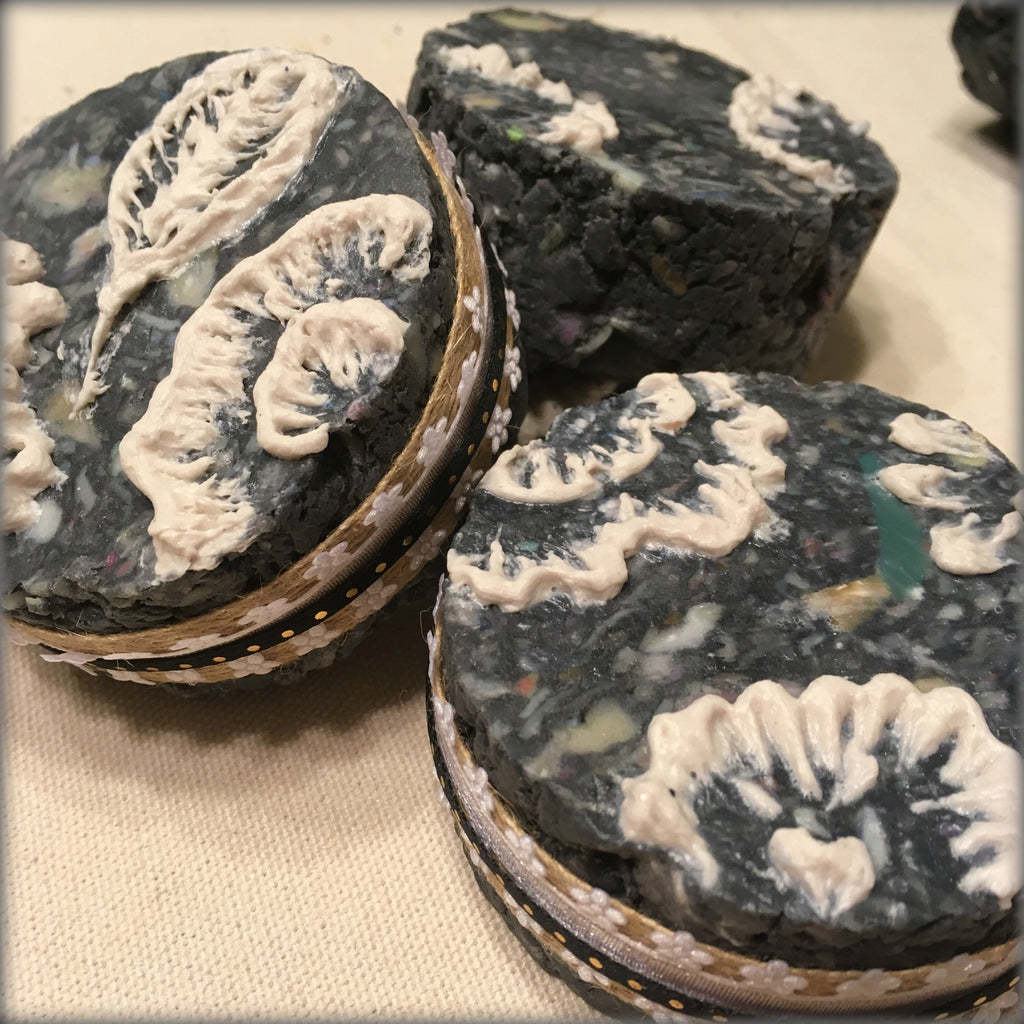 Chalkboard Chic- A Great Cakes Challenge
This Month's Great Cakes Soapworks Challenge is Rustic Soaps. It's a pretty open ended challenge; create a soap that is rustic & include a package that compliments your design.
Now, being from the Midwest, we are no stranger to all things rustic. We have been doing weathered (ahem, splintery)  barn wood, scratchy ropes and worn in (or out) cowboy boots since before it was popular. Nowadays, rustic has taken on a slightly less abrasive appearance under the guise of monikers like "Urban Farmhouse" or "Chalkboard Chic".
Weddings are delightfully held in old barns while the twinkle of Edison bulbs glisten off of cocktails served in mason jars while steel framed chalkboards sign the way.  
Color palettes are simple contrasts of black, white and blush, textures are the details, but not so rough that it makes it unpleasant to the touch making the themes pleasing to the eye, yet comforting to the soul.
My concept was to mimic a smooth matte black chalkboard with white designs. By using a column mold, the sides of the soap would be highly textured from the rebatch technique, but a smooth surface on the face where the bars are cut. I have seen many bakers/ pastry chefs use what is called Brush Embroidery to pipe on an outline, and then create stitches by pulling down the piping in brush strokes.  
With that in mind, I started out for step one- actually making the soaps. 
The challenge introduced a few techniques that inherently create a rustic soap- Hot process and rebatch. I have never had much interest in either  of these, so I decided this would be an excellent way to branch out and learn something new.
Rebatch soap starts out with a hodgepodge of soap slivers, shavings, and other assorted soapy odds and ends. These pieces are thrown into a pot to be melted down and then remolded into a new soap. It's a great way to repurpose scraps, and refresh scents, colors, etc. 
I, for one, have never been a fan of rebatch. The consistency is not very fluid, and the little bits don't seem to melt down and all the colored chunks show. Let's be honest, that many competing scents all stewing in a pot is not very attractive either.  I am pretty determined to figure this out, so onward we go!
I used about a pound of shreds mixed with a splash (less than 1/4C) of water and let it melt down the best it could.
When it was about as good as I could get it to go, I added in some activated charcoal in the hopes of masking the rainbow colored shreds that were turning brown-ish? I scooped it all out, and smoothed it into the lining of my column mold. I think that was easier than having to smash the mass into the bottom of the column.
Now that the soap was in the mold, I needed to work out how to pipe the flowers on. I needed a soap that was fluid enough to create the brush strokes, but firm enough to hold its shape. In a completely unrelated trip down the Youtube rabbit hole, i had stumbled across this delightful soaper-  Handmade by Alecia who was whipping rebatch soap with some pretty impressive results. By following her lead, I was able to not only use a crock pot rebatch, but also make a whipped soap that was surprisingly perfect for piping my details.
 With a little added Titanium Dioxide, I was able to turn the greige? to an off white, almost blush color. With my bars cut, I started piping a rough outline of petals. By taking a paintbrush dipped in a little bit of water, I was able to drag little lines of soap out of the outline to mimic embroidery stitches.
 Lastly, I scoured the local craft store for ribbons and bows and flowers. I found a combination of three ribbons to layer- a bottom piece of woven jute, a white eyelet, and a final ribbon of black with rose gold polka dots. I really like this layered look against the rustic texture that the rebatch soap created for the sides.
A little bit of glue to put it all together, and there you have it- Chalkboard Chic Soap! I must say, after going through this challenge, I have a whole new respect for rebatching soaps. I think that having a better grasp on how to successfully rebatch has opened up a whole new world of possibilities for me and my soap shreds.
Thanks to Amy at Great Cakes Soapworks and her Challenges for always pushing and inspiring me to be a better soaper! 
---
14 comments