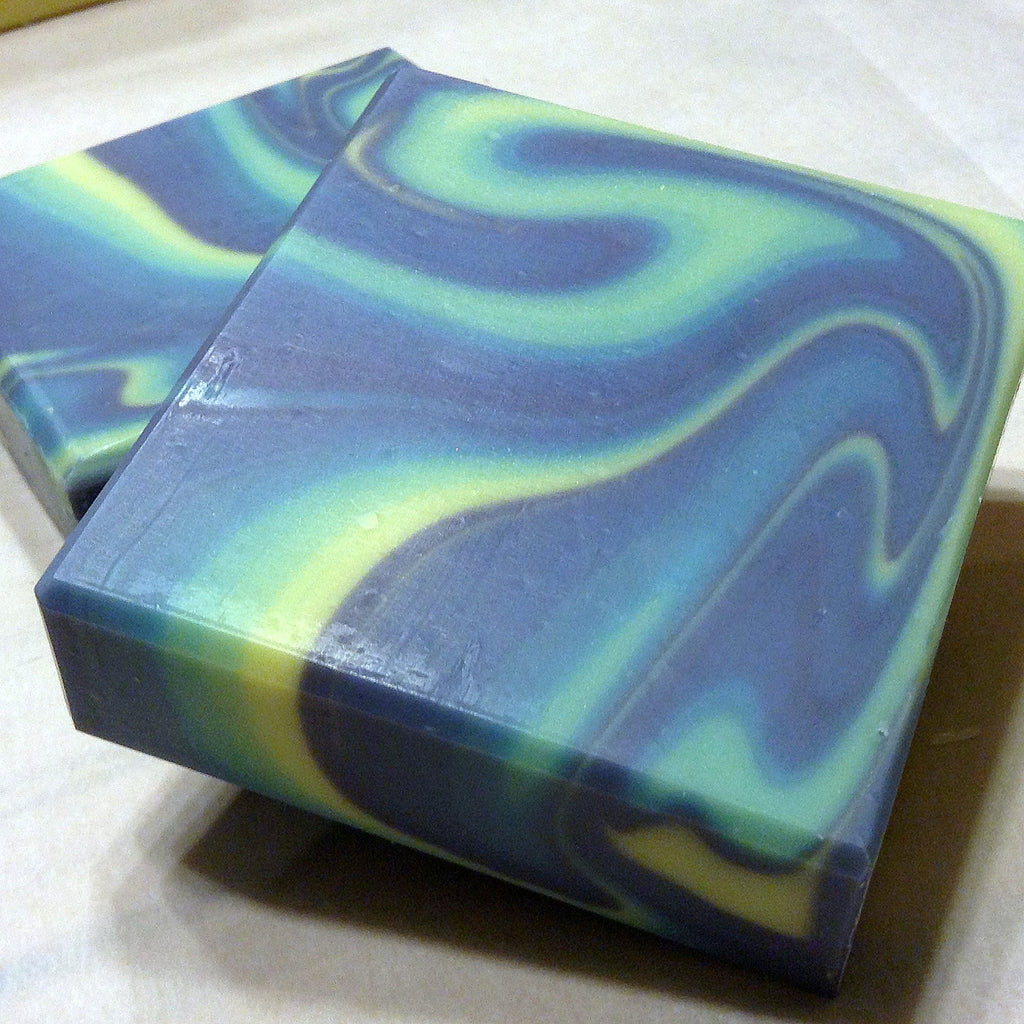 Ombre Challenge
Challenge Ombre Soaps
This month's soap making Challenge is focused on Ombre Soaps. Can I say just how much I L-O-V-E Ombre? I'm not entirely sure why I love it so much, maybe its because Ombres aren't about one or two colors, no. Ombres are about ALL the colors! An ombre, by definition, is about the gradual progression from one color to the next. It can be light to dark, or it can be from one color magically changing into a completely different one.
The ombre trend has been around for a while now, but it just never seems to get old. There are so many different styles and approaches you can take that every soap is a completely new adventure.
I have been playing around with several variations of ombres over the last year, so when Amy announced that this month was dedicated to ombre, I gave a little hoot of excitement.
I actually did four soaps this month, more than I had planned on, but when you see the steps, you will understand why.
Soap #1.  I had picked out my colors and a beautiful scent- NG Wild Currant & Sandalwood. I was prepared to make this a one & done soap making experience. Ha! My hubris was my downfall for sure. The last time I used this FO, I had planned on it accelerating for a sculpted layers soap. Nope. Not only did it not accelerate, but it seemed to reverse my trace. Do you think I could make the FO do that twice? Bwahahaha! Yeah, not even close. This ended up being pretty close to soap on a stick. So here is my "happy it's not still stuck in the pot" soap #1
Soaps #2 & #3 were done in conjunction with each other. After the fiasco with soap #1, I made a blue ombre spin swirl that was unscented, and a red to yellow layered ombre scented with BB Sparkling Snowdrop. The idea was to make both soaps, then take cookie cutters and switch cut out shapes. Unfortunately, the shapes didn't want to go into the other pieces without smooshing in strange ways. Ugh.
So here we are at soap #4. No crazy construction tools needed. No wonky FOs to mess with my trace. Deep breath- I can do this! Of course, I still haven't learned to overthink the soap design, but that's ok, I'm going forward anyway.
The plan: Make a spin swirl soap using a transitional ombre color palette that alternates across the mold. Easy Peasy, right? 
Usually, when I work with ombres, I mix the base colors first, and then blend portions of the colors to get the gradations between the colors. For this soap I started with Midnight Blue, Bright Blue & Bright Yellow. 
I knew the blending would be a little bit dicey due to the Buttercup Yellow Mica. It turns almost an orangey-gold color when it's first mixed. Even though I know it will go back to a beautiful yellow after saponification, all of the colors I mix will be slightly brownish, due to the orange tinge it is currently.
Normally, I  pour each color into the mold as I go, which eliminates the worry that the first layers will solidify before I get to the last layers. With this soap, I was going to reserve each mixed color in separate containers, to pour on each side of the mold as I was ready. If I mixed one side, there was no way I could recreate the exact colors for the other side, if I poured each color directly into the mold. This meant I needed to cross my fingers that my super-secret- non-tracing ingredient was not going to fail me. I needed all of my little color cups to stay fluid until the very end.
To mix the colors, I started mixing Color A with Color B, incrementally increasing Color B, while decreasing Color A with each mix.
Cup 1- 175ML Color A/ 25 ML Color B
Cup 2- 150ML Color A/ 50 ML Color B
Cup 3 100ML Color A/ 100 ML Color B
Cup 4 75 ML Color A/ 125 ML Color B
And so on, making my way through all of Color B mixed with Color C.
Once all the cups were made, I started at one corner of the mold and poured the darkest midnight blue. I followed one by one, dark to light to green to yellow.
I rotated the mold and then started the same pattern.
And another rotation
The final rotation.
I almost stopped here. The colors looked so awesome, but I really wanted the spin swirl. It was an extra blend of the ombres that I wanted, to show off the fluidity of the batter and the transitions.
I wasn't really sure that I made the right decision until after I cut the soap the next day. It really is dynamic, and the subtle color changes seem to come to life with the swirls.
And the Final Soap:
I used Olive, Coconut, Palm, Sunflower & Castor oils along with a 1:1.4 lye: water ratio. I used an essential oil blend of Peppermint, Eucalyptus, and Spearmint. 
*Pro tip- every single soap I make that uses Spearmint Essential Oil is super slow to trace. I used the Spearmint EO specifically because I needed time to mix all the colors, and I was able to use a water discount. This is my Super-Secret Non-Tracing ingredient. 
Thanks to Amy at Great Cakes Soapworks for this super fun Challenge!!!!
If you are interested in more Ombre designs, keep an eye out on the blog for a cold process tutorial for a No Color Added Ombre Soap.
---